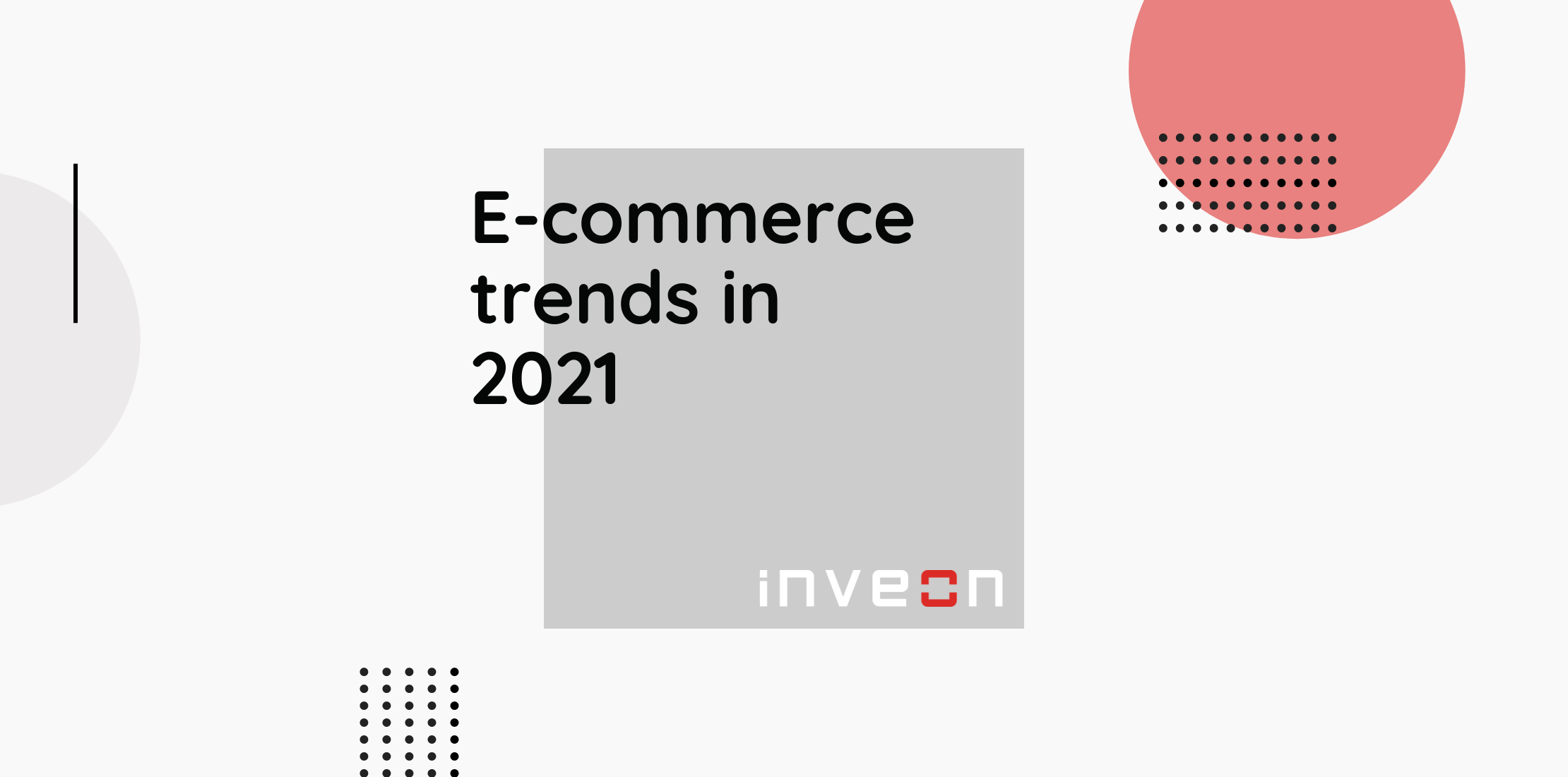 We can all agree that 2020 became one of the most interesting years in our life cycle. While we were battling a serious global pandemic, the business world experienced an unforgettable year. In terms of the e-commerce industry, 2020 can be considered as the year of speed, change, and adaptation, giving significant momentum to the growth of the sector.
Statista numbers state that retail websites generated almost 22 billion visits in June 2020, up from 16.07 billion global visits in January 2020. This attention-grabbing growth has brought along a major change. 
In 2020, consumer habits changed radically and brands had to review their customer journeys from the beginning to the end. The brands who improved their online shopping experience and facilitated access to products & services became the winners of 2020.
Although increasing demands and expectations brought along many difficulties, it also created an opportunity for the transformation of the industry. It is no longer sufficient to just provide high-quality products. People prefer brands that offer end-to-end personalized experiences that they can connect with emotionally. While brands that provide this gain customer loyalty, they also achieve a significant advantage in the competition.
As we approach 2021 day by day, let's see together what trends we will encounter in the e-commerce world in the new year.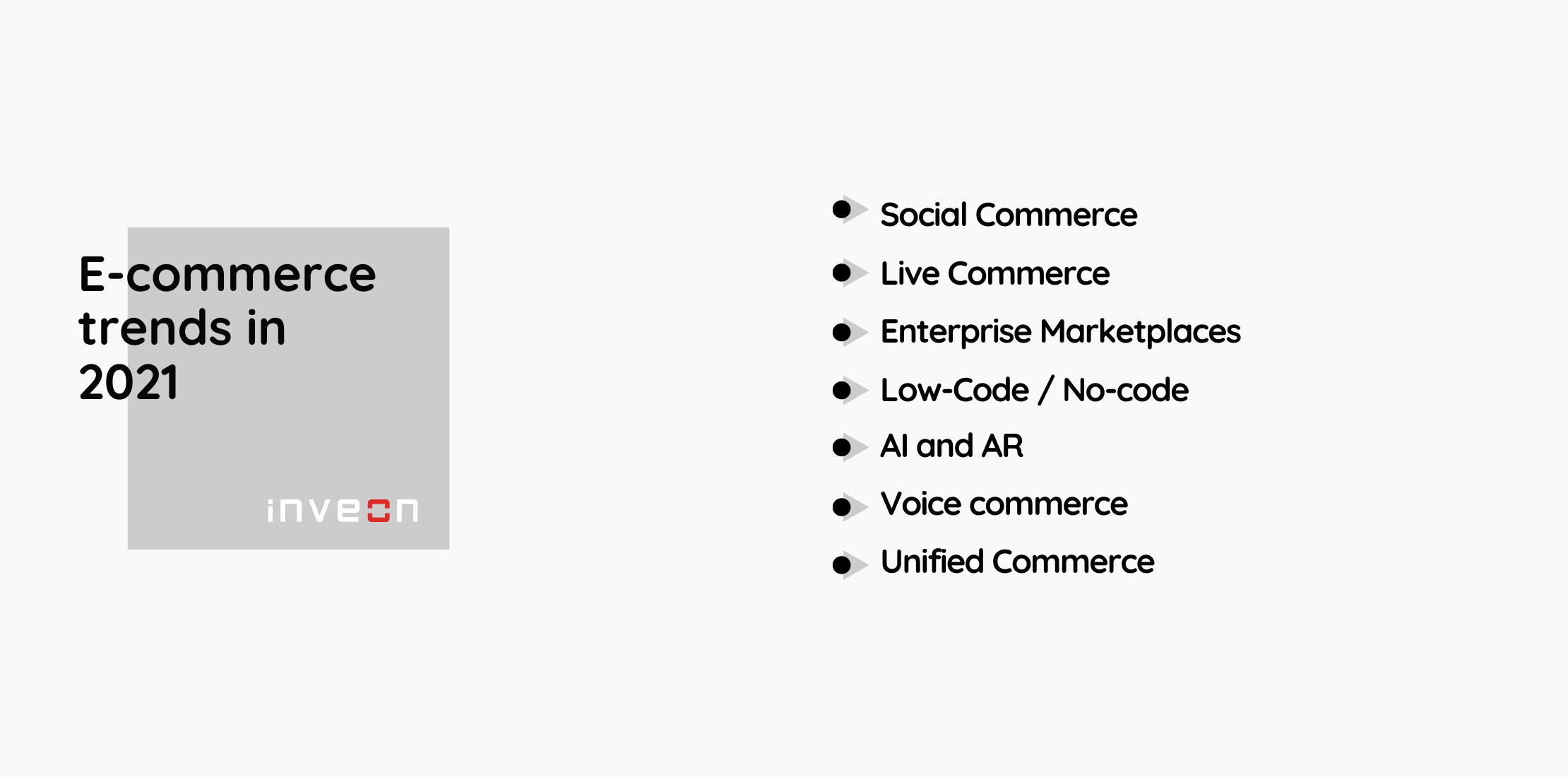 Social Commerce
Social commerce can be defined as selling and purchasing products and services through social media platforms without diverting the sales process to another channel.
Insider Intelligence data suggests that US Social Commerce sales will reach $23.3 billion in 2020, which is 20% higher than 2019 sales. While speed and convenience are at the forefront for consumers, it is not unexpected that they prefer to shop from social platforms where they spend an average of 2.5 hours a day.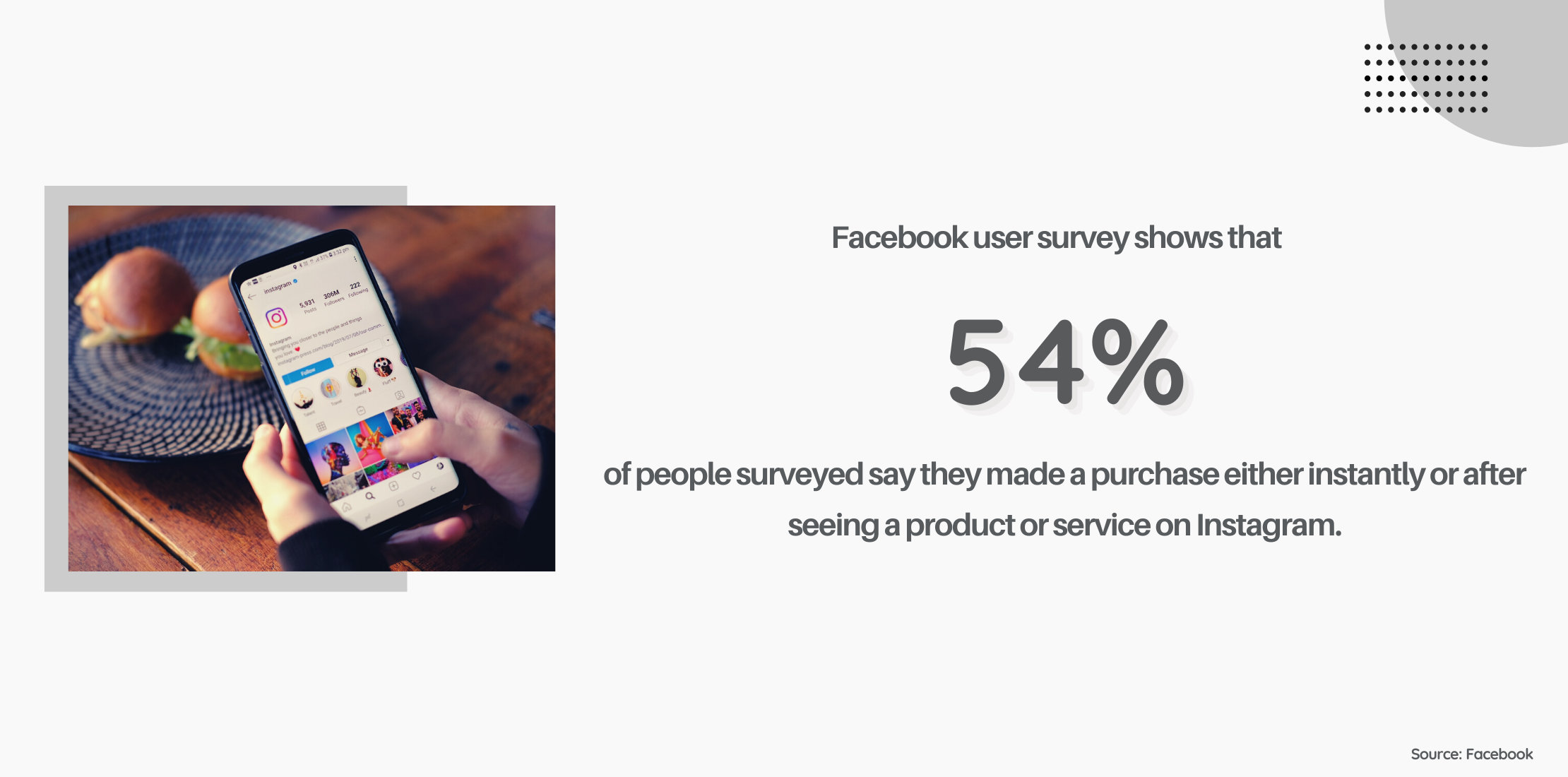 We can suggest that there is great potential for brands to engage with these customers within the platform and provide them an option to buy instantly.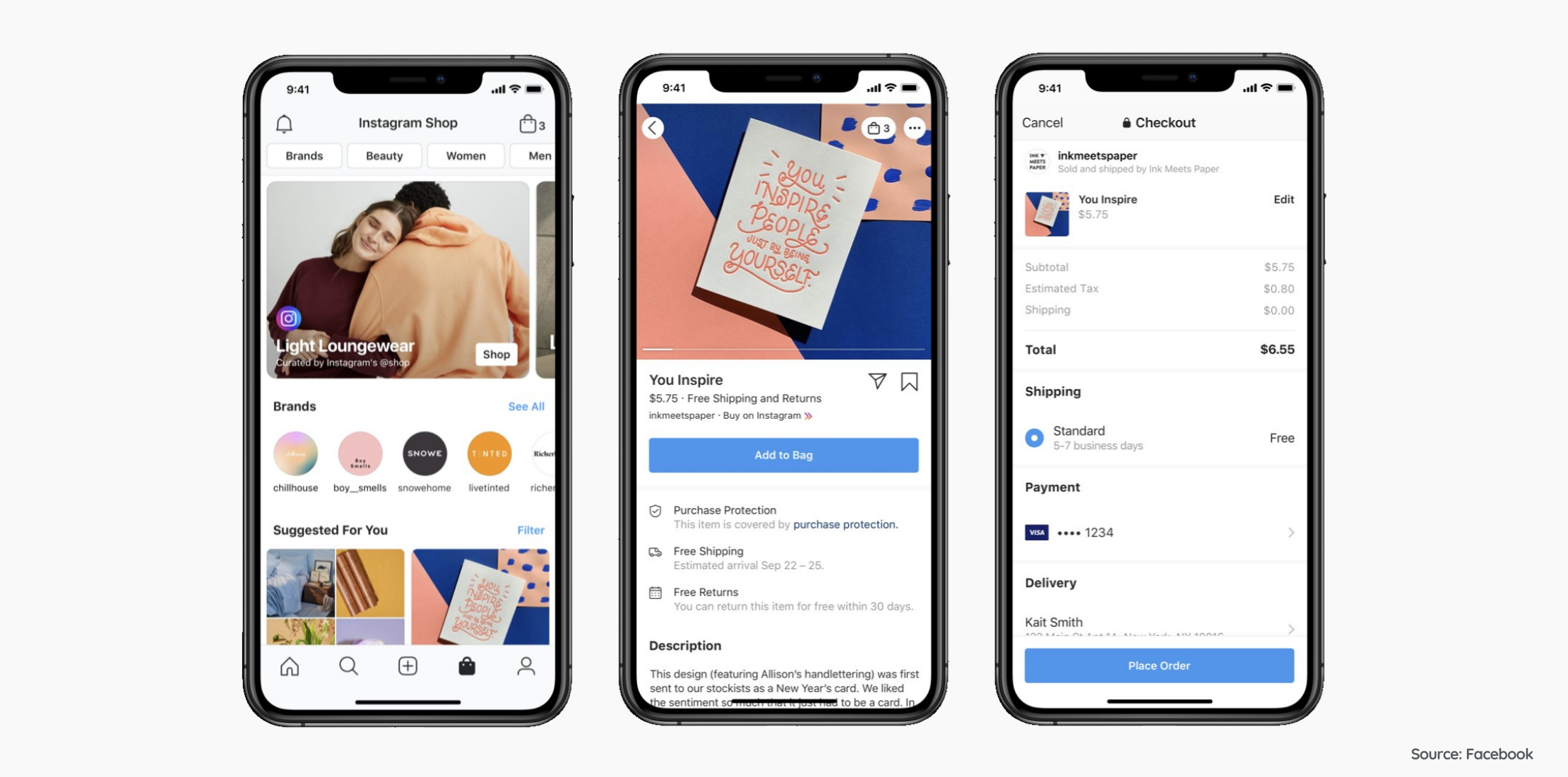 *In order to make it happen, social platforms are investing heavily, implementing product improvements and launching new features. Facebook has made improvements for the Facebook Shop by releasing new tools and arrangements throughout the year. Snapchat joined the race with successful pilot projects. Pinterest is rapidly advancing shoppable Pin features, especially in the US and UK.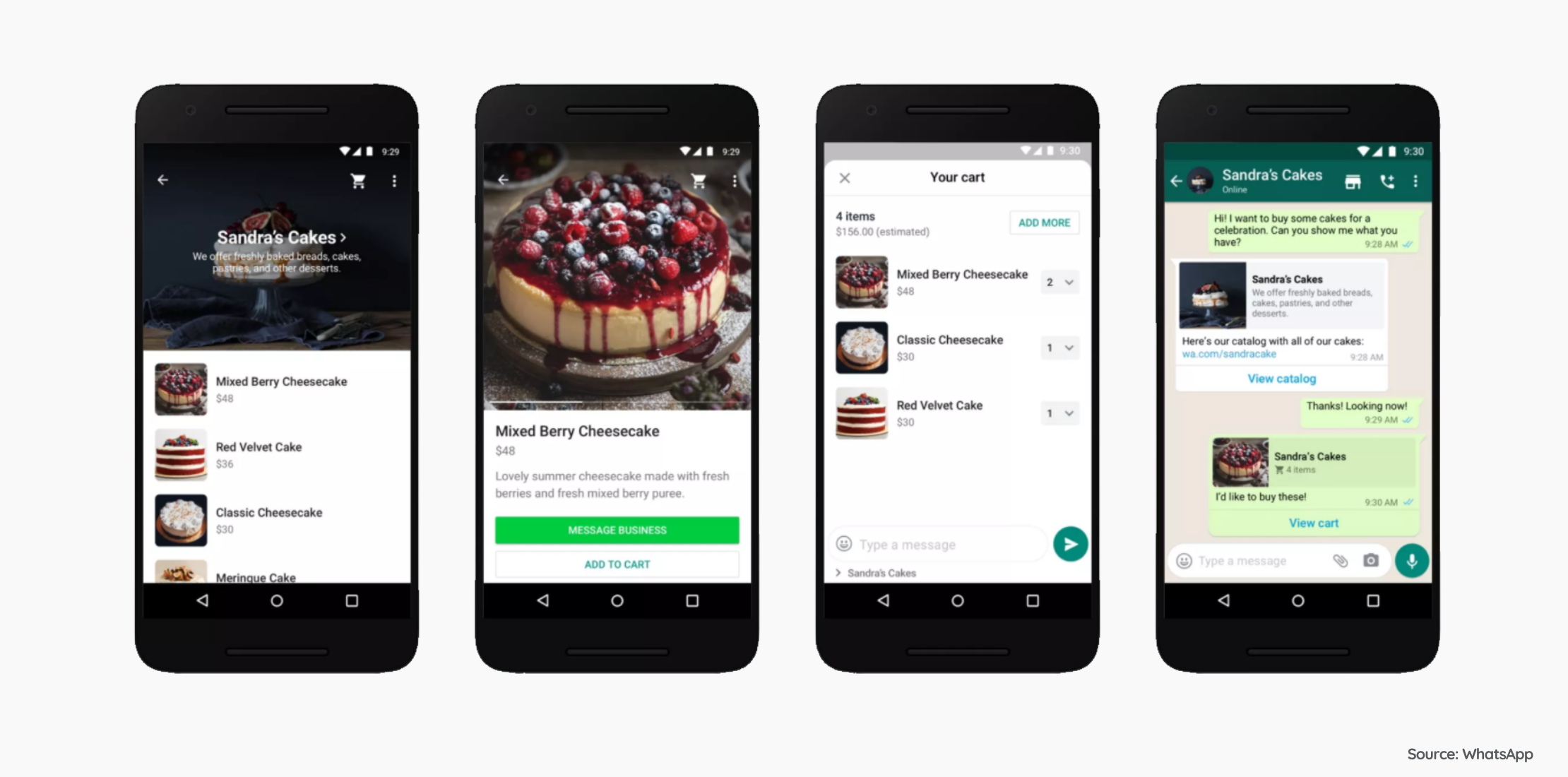 *In early December, WhatsApp launched a new "cart" feature which is now available in the application. It allows more than one product to be added to a cart and sent to the seller as a single order. It makes it easier for the sellers to track and manage the orders and provides great convenience for the consumer.
Social commerce is a concept that is becoming more and more popular among consumers and brands. We can expect to be discussing this topic more often in the upcoming year.
Live Commerce 
Live commerce is a spreading new channel that provides an opportunity to sell products or services using live streaming. It allows viewers or potential buyers to instantly access the products shown on the screen and a very attractive option as it instantly brings the opportunity consumer to the exhibited product.
In today's world where speed is incredibly important, it is an outstanding convenience offered to consumers and an exciting channel for brands to meet with consumers.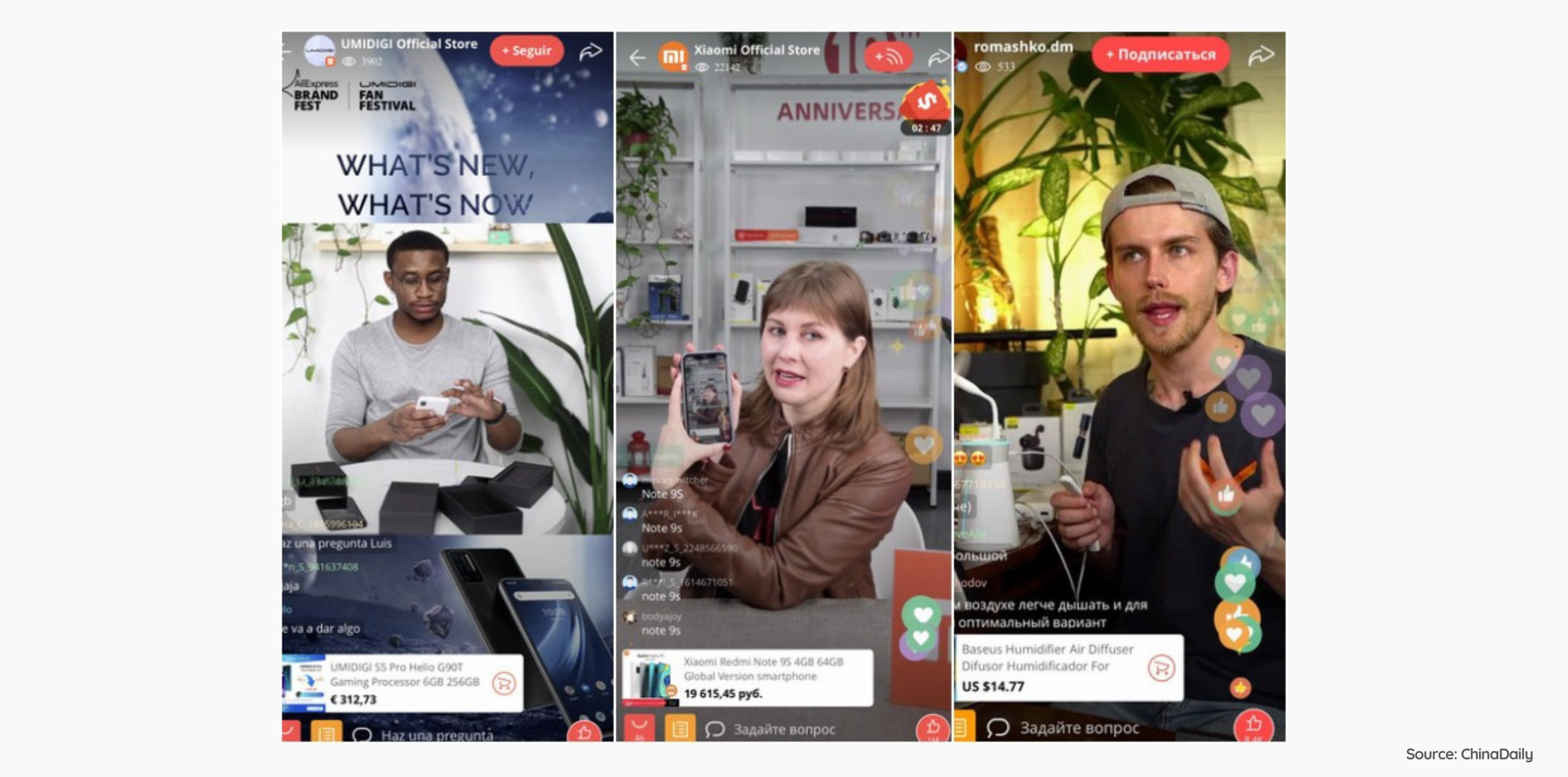 *In 2017, when AliExpress launched "AliExpress Live" it was a pioneer move. 
This improvement was followed by shoppable TV ads. Directing consumers to a mobile app that allows people to buy what they see on the screen right there. That's a cool concept! Live commerce creates an easy, quick and satisfying shopping experience via mobile apps or smart TV applications.
In 2021, we will see more of these applications that allow consumers to communicate with the brand in real-time and facilitate connection with consumers through live interaction.
Enterprise Marketplaces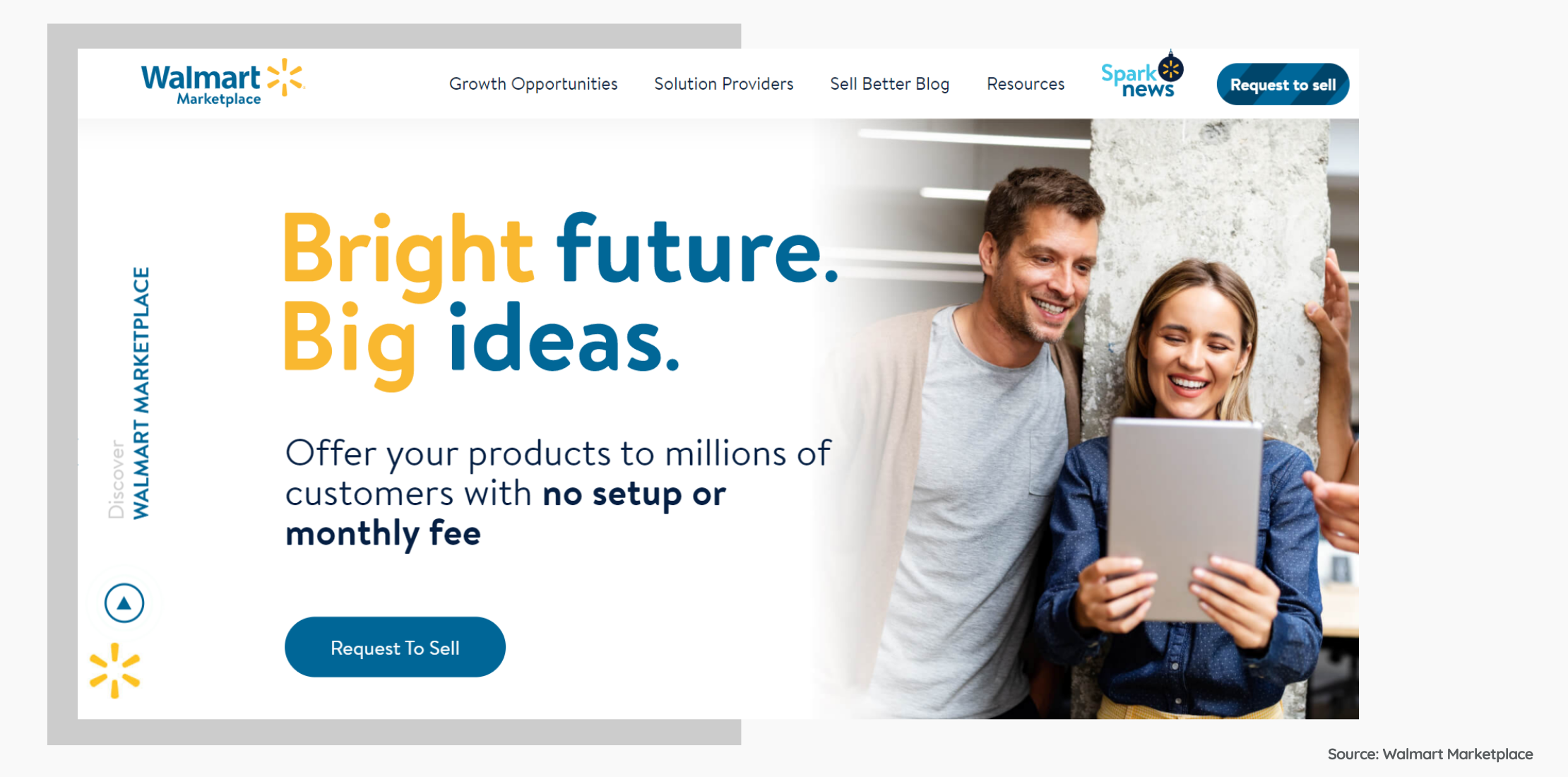 *Walmart Marketplace is a successful example of an enterprise marketplace.
The main differentiating point from third-party marketplaces like Amazon or eBay, is that enterprise marketplaces mostly sell third-party products alongside their own products and services. The enterprise marketplace model helps brands create a more comprehensive ecosystem and open up space for growth. According to Gartner, 15% of medium-high gross value merchandise brands will launch their own marketplace by 2023.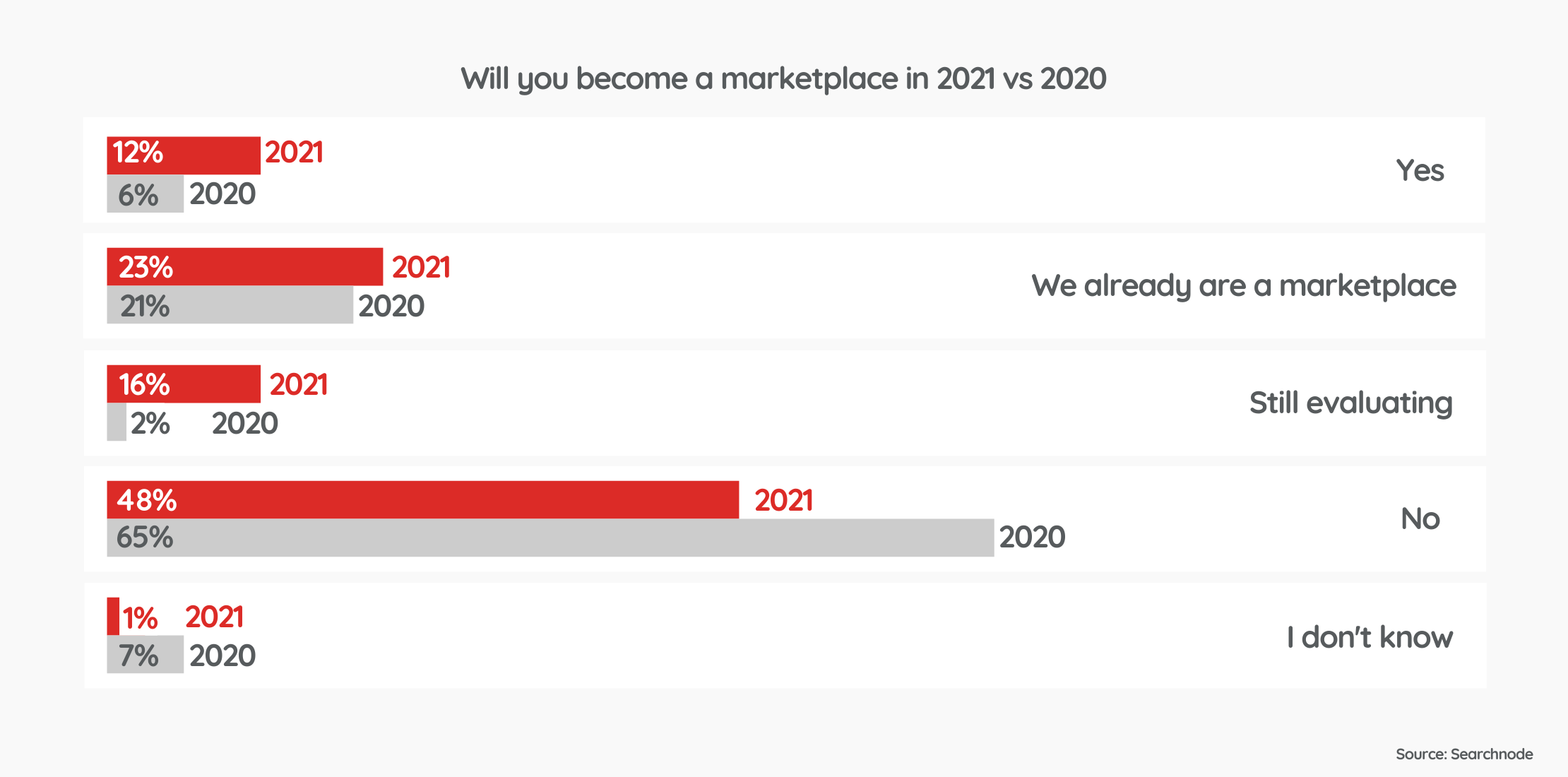 *Searchnode data also shows an increased interest in the topic among brands.
Low-Code / No-code 
The pandemic showed us that the ability to quickly adapt technologies to keep up with change is a top priority. This is why we often say that the most important asset to being agile is a suitable infrastructure. The capability of the software you use is what determines whether you are on the winning side. Within the software landscape, there is a recent concept called the "low-code/no-code".  
What is this low-code/no-code? 
The low-code/no-code development platform is a visual software development environment that allows "citizen developers" to create web or mobile applications by dragging and dropping app constituents. So, this environment enables non-developer employees to create and develop platforms without confusion. Through these systems, meeting increasing demand is easier, faster, and more effective. While non-developers in your team can handle some improvements by themselves it leaves more time for developers to work on more complicated tasks.
AI and AR
Artificial Intelligence and Augmented Reality applications, provide significant advantages and conveniences to both consumers and companies. These applications are very important tools for different business units, from sales and marketing to customer success. They provide a more effective management opportunity in key areas for online shops and customer experience.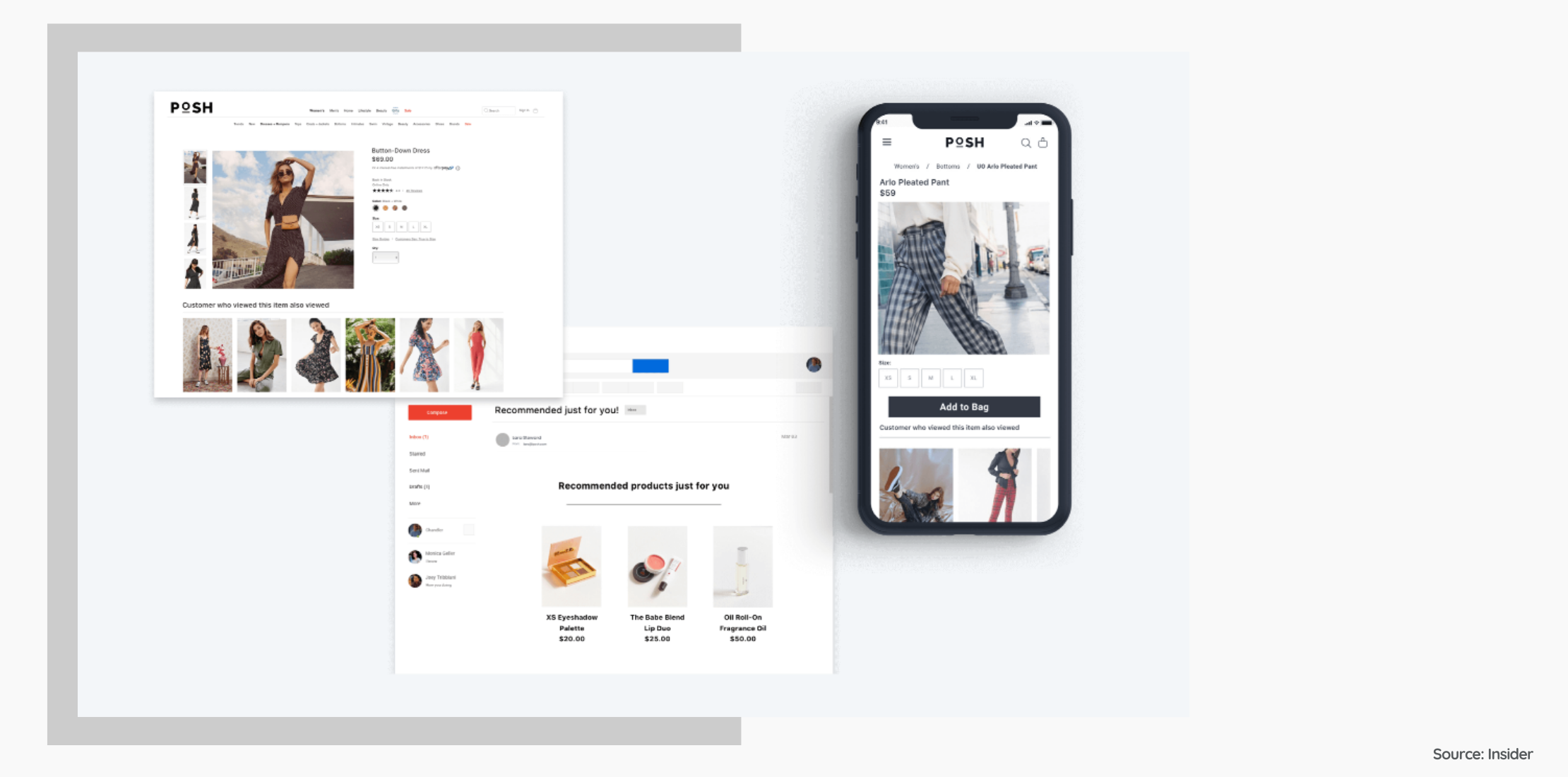 *More than 80% of the customer interaction within the e-commerce industry will be controlled by AI by the end of 2020, Gartner says.  
AI-driven technologies improve customer experience with different aspects such as AI-based smart search, advanced recommendations, and personalization or voice assistants. They also play an important role in inventory management in warehouses.
If you are willing to invest in consumer experience, just like AI, Augmented Reality has the potential to level up your business with effective use. It stands out in providing alternative solutions to the issues caused by the physical distance and difficulties of this year. Thanks to AR, consumers have the opportunity to try products that cannot be in physical contact and to evaluate them in detail before completing their purchase. This unique experience stands out especially in product categories such as furniture, home products, and clothes, which attracted customers.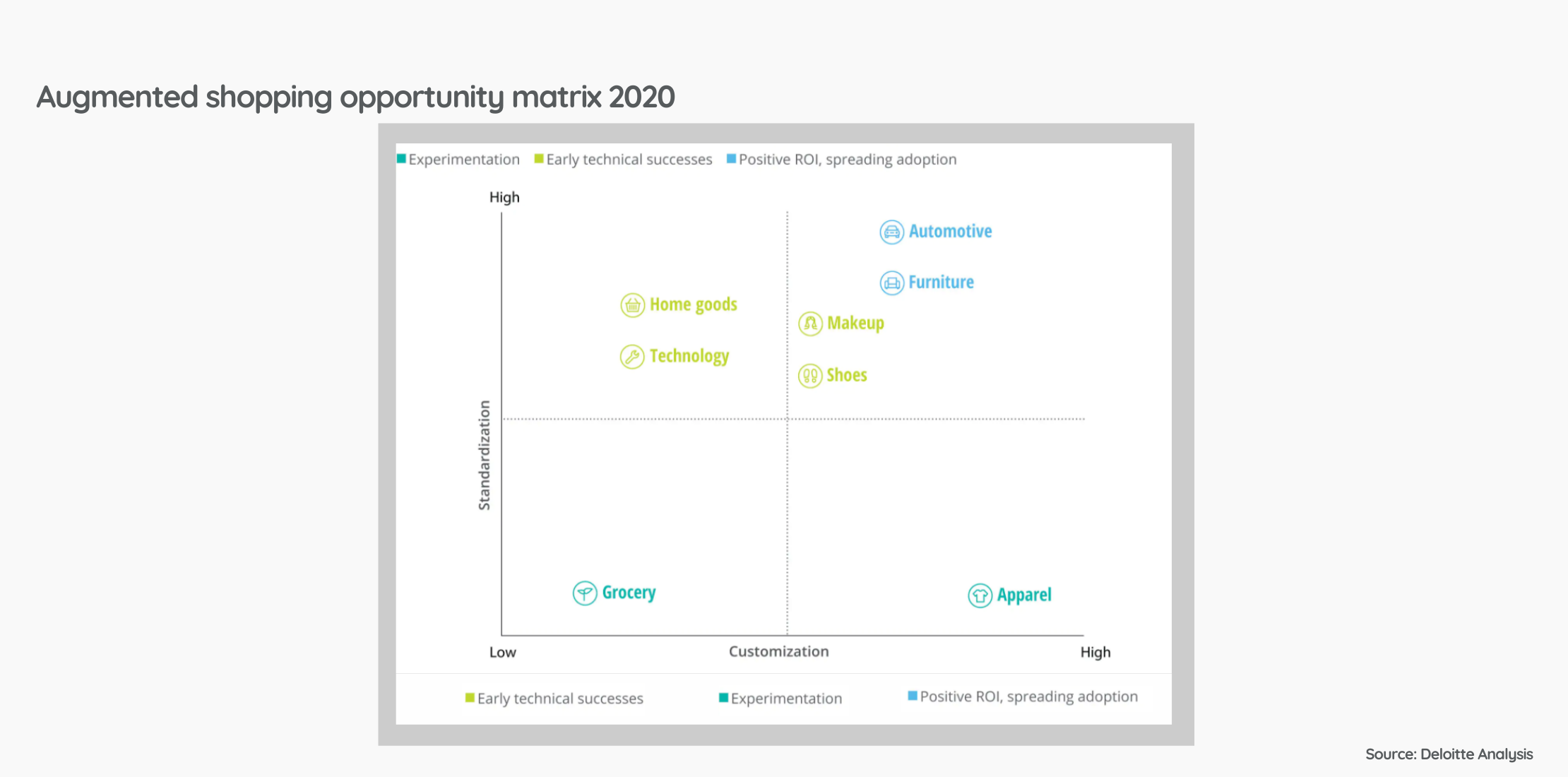 *Gartner suggests that by the end of 2020, over 100 million people worldwide will use AR technologies at least once in their online or in-store shopping experience. 
Especially keeping in mind that consumers consider online shopping as an experience, it would be quite appropriate to say that brands that differentiate to create this experience and make it more advanced will stand out.
Voice commerc

e
Although voice commerce is related to the AI-driven technology we just mentioned, it deserves to be discussed in more detail.
It is an AI-driven development that can be used in both in-store and online shopping applications. This technology, which is widely used with mobile devices and voice assistant devices (like Google Home or Amazon Echo), is a rising new trend.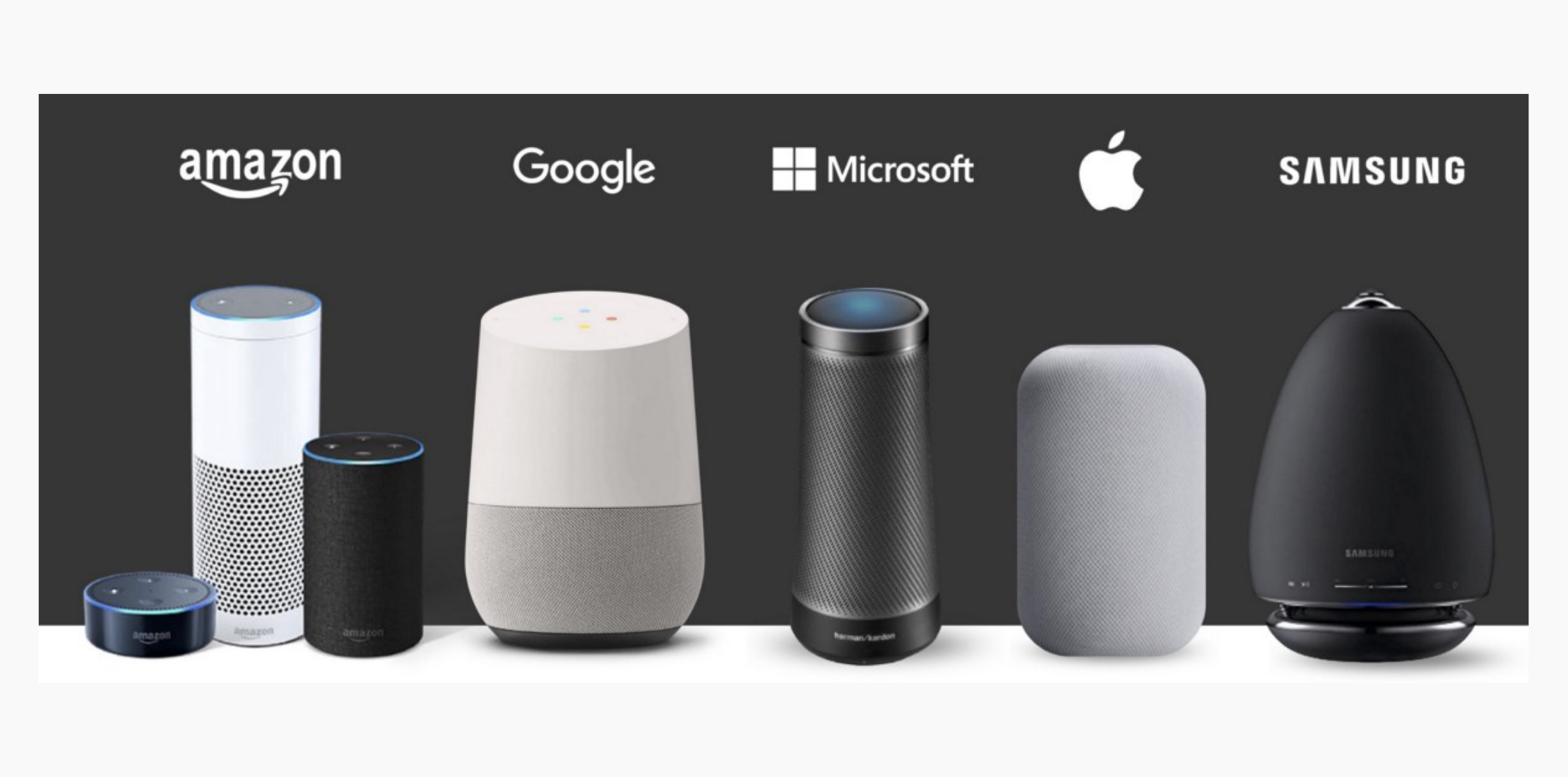 *Tech companies like Google, Apple, Amazon or Microsoft are really focused on this topic and with the increasing popularity of their voice-activated devices, an adaptation of voice commerce will increase even further.
Voice commerce is a channel that can lead to an increase in engagement, offering the consumer a practical option that saves time while providing brand loyalty and competitive advantage.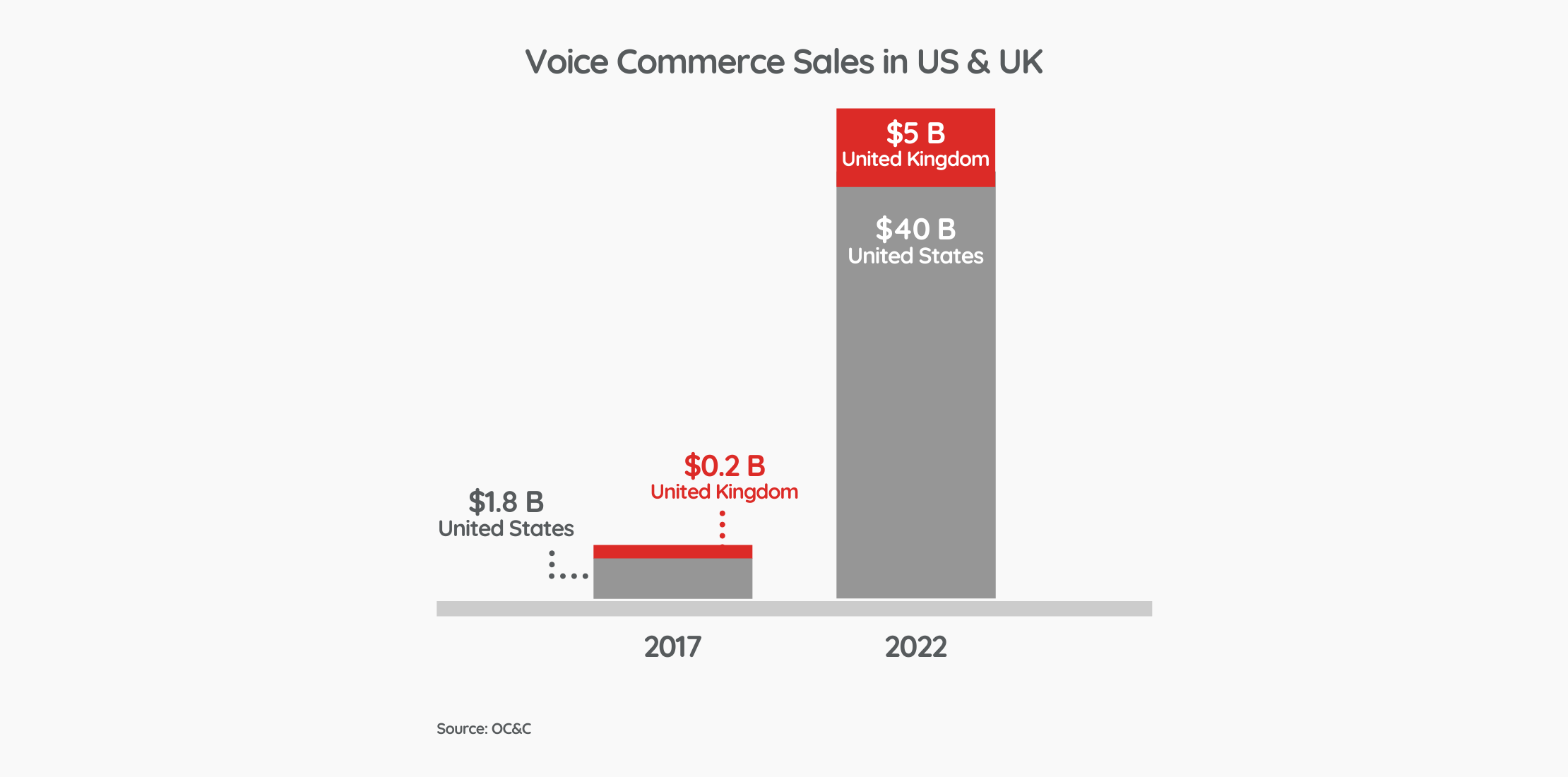 *Loup Ventures research says that 75% of U.S. households will have smart speakers by 2025. 
Unified Commerce 
Gartner defines unified commerce as the practice of providing flexibility, continuity, and consistency across digital and physical channels to deliver a superior customer experience. This consistency includes multiple phases of the customer's buying journey, including when a customer is searching, browsing for, transacting, acquiring, and consuming a product or service. 
A differentiation point from omnichannel systems is that unified commerce does not try to bring various channels together with an external system, it brings them together with a single platform to manage.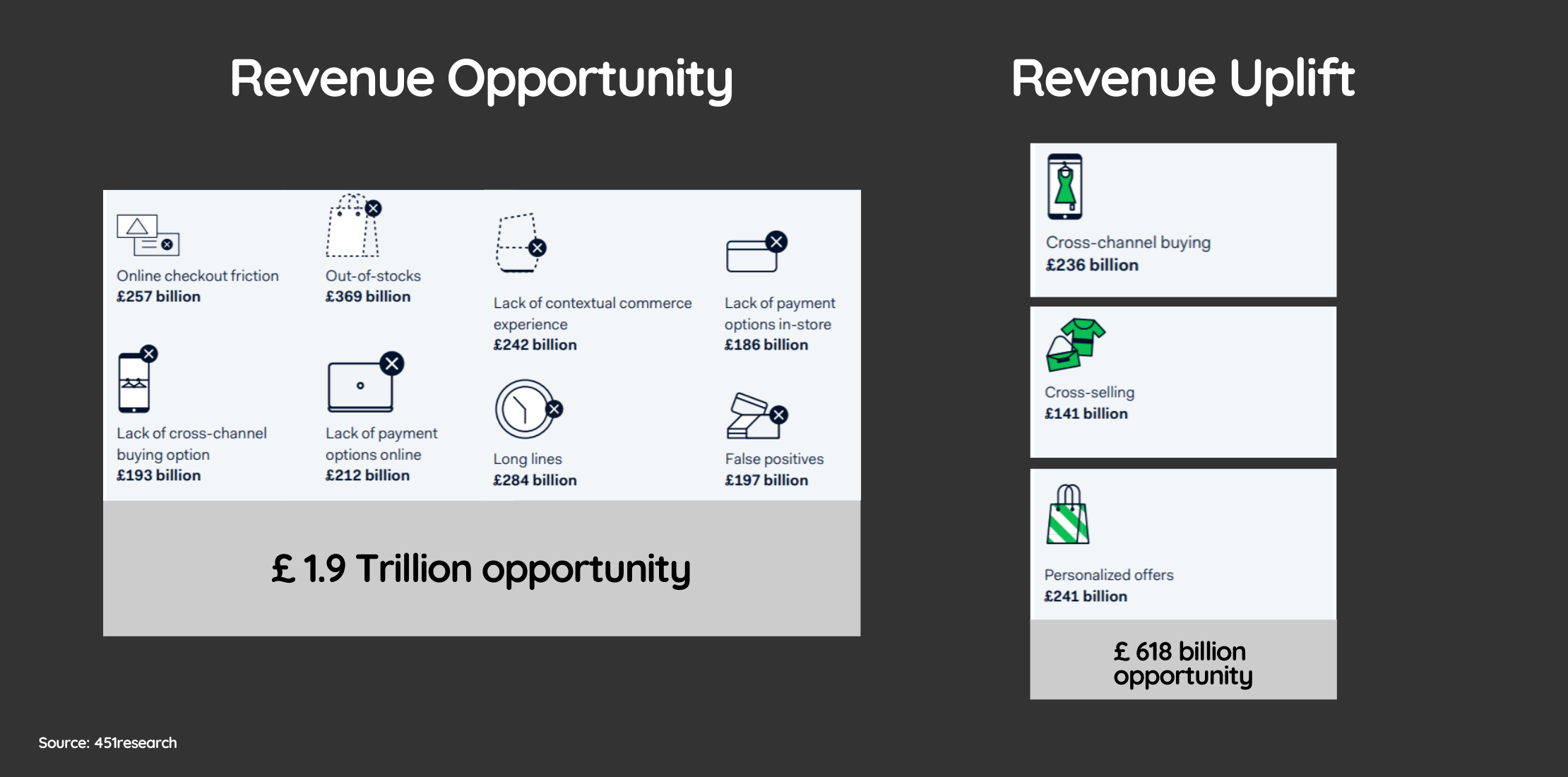 As a result, a single managing point can create an opportunity to broadly scan the customers' interaction with your brand. This allows companies to provide different channel options when it comes to purchasing, various delivery alternatives, and payment options. Moreover, unified commerce offers customers a consistent experience regardless of the channel, process, time, or location.
According to a survey by Boston Retail Partners (BRP), by the end of 2020, 81% of retailers will deploy unified commerce platforms as fundamental to compete in the rising omnichannel environment.
Closing remarks
The e-commerce world is very dynamic, in the sense that change and transformation will never stop. Without any doubt, we will see serious developments in 2021 as a result of everlasting improvements in technology and infrastructures, the continuous evolution of consumer behavior, and increasing interest. We expect to see the rise of social commerce, live commerce, enterprise marketplaces, low-code / no-code systems, AI and AR applications, voice commerce and unified commerce in 2021 as we've mentioned above.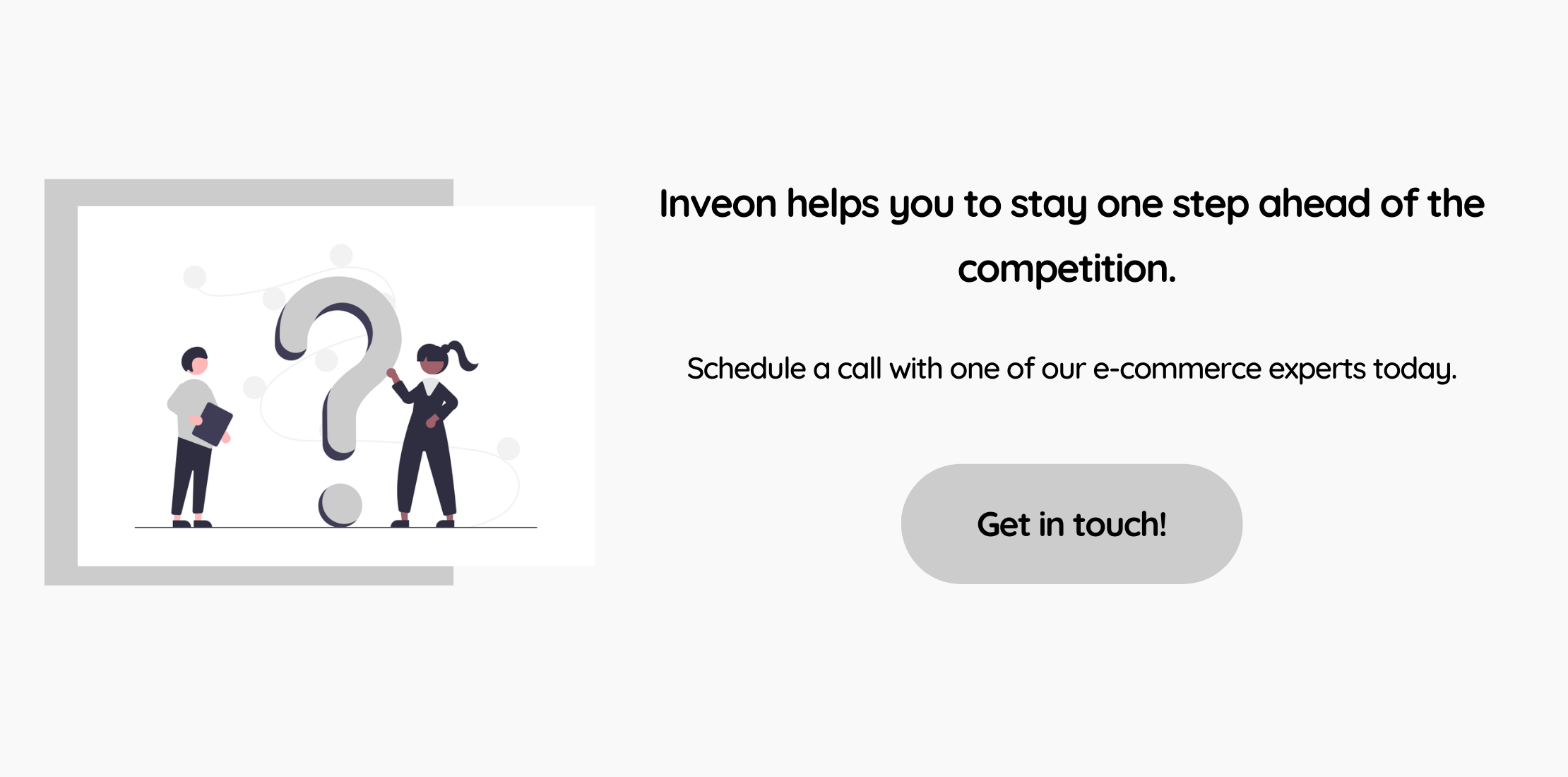 2020 showed that the long-reaching changes could happen in a very short time. A trend that we expect to rise in a few years may appear in two months. In these circumstances, every retail or consumer goods brand in the market is forced to make an important effort to differentiate from others. In this case, the way to be a winner is to improve the adaptation capacity in every field while closely following innovative approaches and developments.